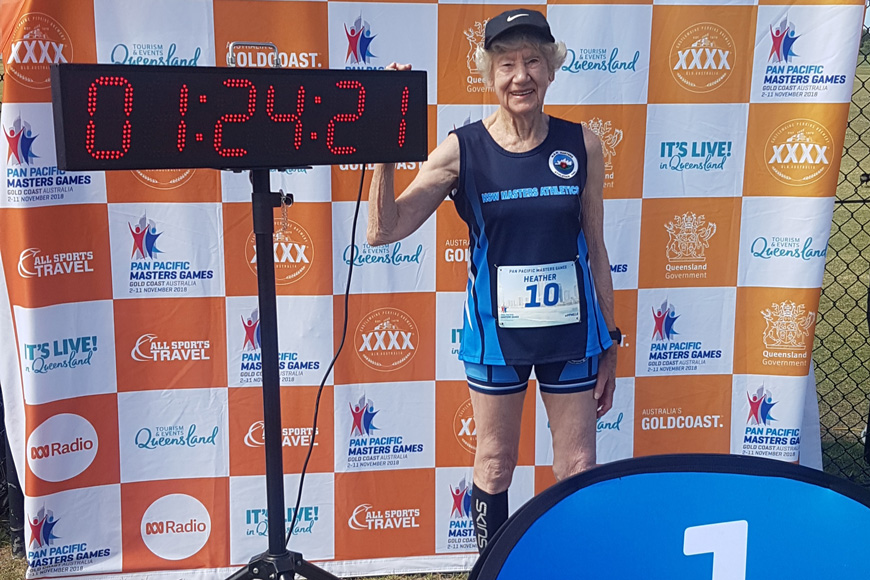 Heather Lee after breaking the world record in the road race walk. 
---
New South Wales masters athlete Heather Lee broke the world record in the 10km road race walk this morning on the final day of competition at the Pan Pacific Masters Games on Australia's Gold Coast.
Lee, who turns 92 on Saturday, clocked 84 minutes 21 seconds for the women's 90-year category to win the gold medal in glorious walking conditions at Runaway Bay.
Hailing from Richmond in the Hawkesbury region of NSW, Lee shaved 67 seconds off her own record which she set at the Australian Masters Athletics Championships in Perth in April.
The race walking dynamo now holds the world records in her age group for the 3000m walk, 5000m walk and 10km road walk.
"I came here to the Gold Coast to lower my world record so I'm very happy to have achieved that," Lee said.
"I love coming here to compete at the Pan Pacific Masters Games because I'm not defined by my age – I am just one of the competitors regardless of being 91."
It completed a treble of wins for Lee at the Pan Pacs after she won gold for her age category in the 5000m walk (42:06.13) on Friday and the 3000m walk (24:45.29) yesterday.
Lee developed a passion for walking following motivational words given to her by her late husband Leonard before his passing.
"I have my husband to thank for what I have achieved in race walking," she said.
"When he was battling lung cancer, despite having never smoked, he said to me 'now is the time to show your mettle'. This made the hair on the back of my neck stand on end.
"After his death (in 1996) I developed a compulsion to walk. The faster I walked, the better I felt."