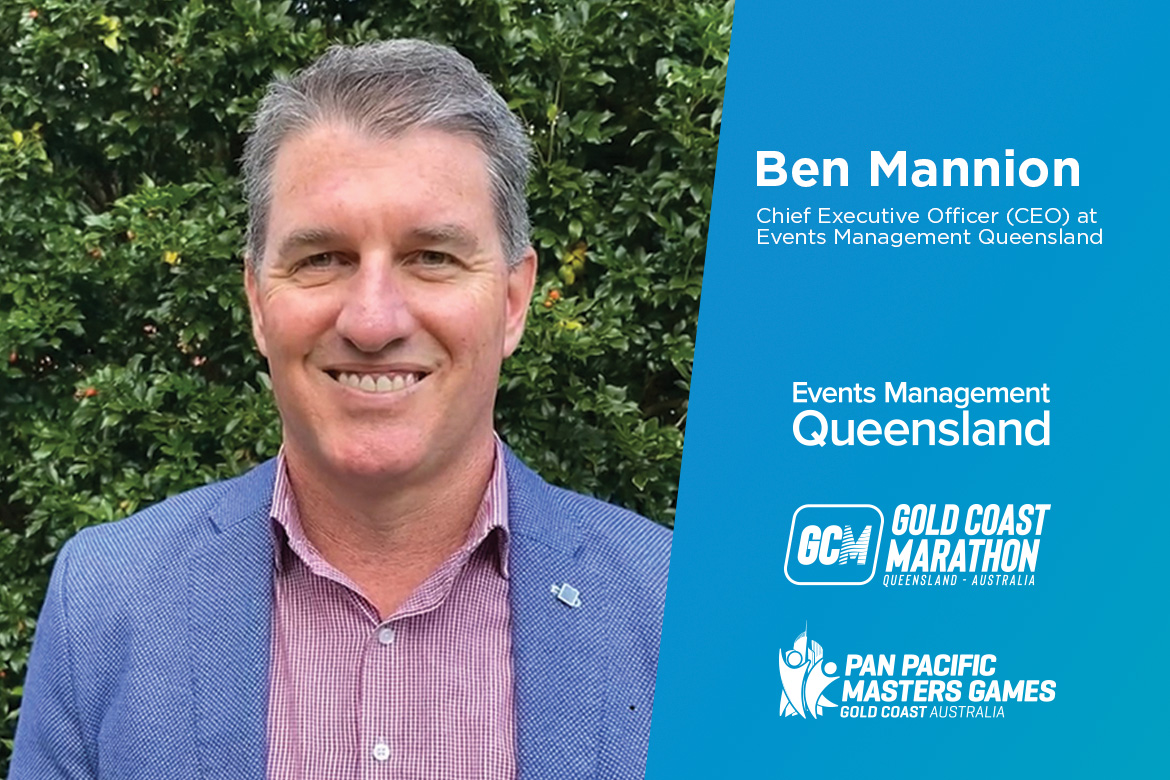 Leading Queensland sports administrator, Ben Mannion will hit the ground running when he takes up the role of Chief Executive Officer (CEO) at Events Management Queensland (EMQ), managers of iconic Australian events, the Gold Coast Marathon and Pan Pacific Masters Games.
A nationwide recruitment campaign to find the right person to fill former long-time CEO Cam Hart's shoes was conducted over a two-month period with hundreds of highly qualified candidates from all over the world vying for the top role. 
Events Management Queensland Chairman, Paul Donovan said they were overwhelmed by the calibre of talented people applying for the position admitting it was challenging to narrow it down to a final few before Mannion's appointment. 
"We are delighted to welcome Ben aboard and feel very confident in his ability to lead the talented team at EMQ into a new era for our events. 
"He has an enviable track record in major events and sports administration with significant experience in governance, operational planning, strategy, and commercial development. 
"Ben is a gregarious character who we believe will complement the wonderful team at EMQ and support them to continue delivering world-class events that put the Gold Coast and Queensland on the world sporting stage. 
"The pandemic certainly impacted momentum for both events but the Gold Coast Marathon bounced back last year with a predominantly Australian participation of 20,000 closely followed by delivery of a highly successful Pan Pacific Masters Games which hosted almost 14,000 entrants. 
"This year's marathon is shaping up to have strong numbers again reminiscent of pre-pandemic days with a significant surge in international entries and great support from participants right across Australia. 
"With just over 12 weeks to go it's a good time for Ben to experience the lead up to the event and understand how it operates and some of its complexities before race weekend," Mr Donovan said. 
Having spent the last two years heading up the Queensland Thoroughbred Owners Association, Mannion brings to EMQ extensive experience in sport and event delivery including senior management roles with the Gold Coast 2018 Commonwealth Games, Queensland Touch Football and Football Queensland. 
As General Manager of Nissan Arena, home of Netball Queensland in 2020-2021, he successfully delivered multiple major events across netball and basketball while managing a multi-million-dollar commercial strategy including positive partnership developments. 
Mannion said he was thrilled to join the EMQ team and be a part of the delivery and ongoing development of two of Australia's most renowned mass participation events. 
"These events have set the benchmark very high in their genres with world-wide recognition indicative of their reputation, professional delivery and overall consumer experience. 
"I am excited to be involved in sport on the Gold Coast again and look forward to contributing to the city's position as an enviable tourism and major sporting event destination ahead of the Brisbane 2032 Olympics." 
The 2023 Gold Coast Marathon weekend (1-2 July) will also feature the ASICS Half Marathon, Southern Cross University 10km Run, Gold Coast Airport 5km Run, the Health and Wellbeing Queensland 2km and 4km Junior Dashes and the CPL marathon and 10km wheelchair races. 
The Gold Coast Double 63.3km event – contested by hardy runners competing in both Saturday's half and Sunday's full marathon – will also be contested. 
Gold Coast locals 20 % discount on entry applies until the 28 April early bird deadline – get in fast to secure your place in the 2023 Gold Coast Marathon. 
People wanting further information on the 2023 Gold Coast Marathon events can visit www.goldcoastmarathon.com.au 
The Gold Coast Marathon is organised by Events Management Queensland, a major event management company wholly owned by the Queensland Government as part of Tourism and Events Queensland.