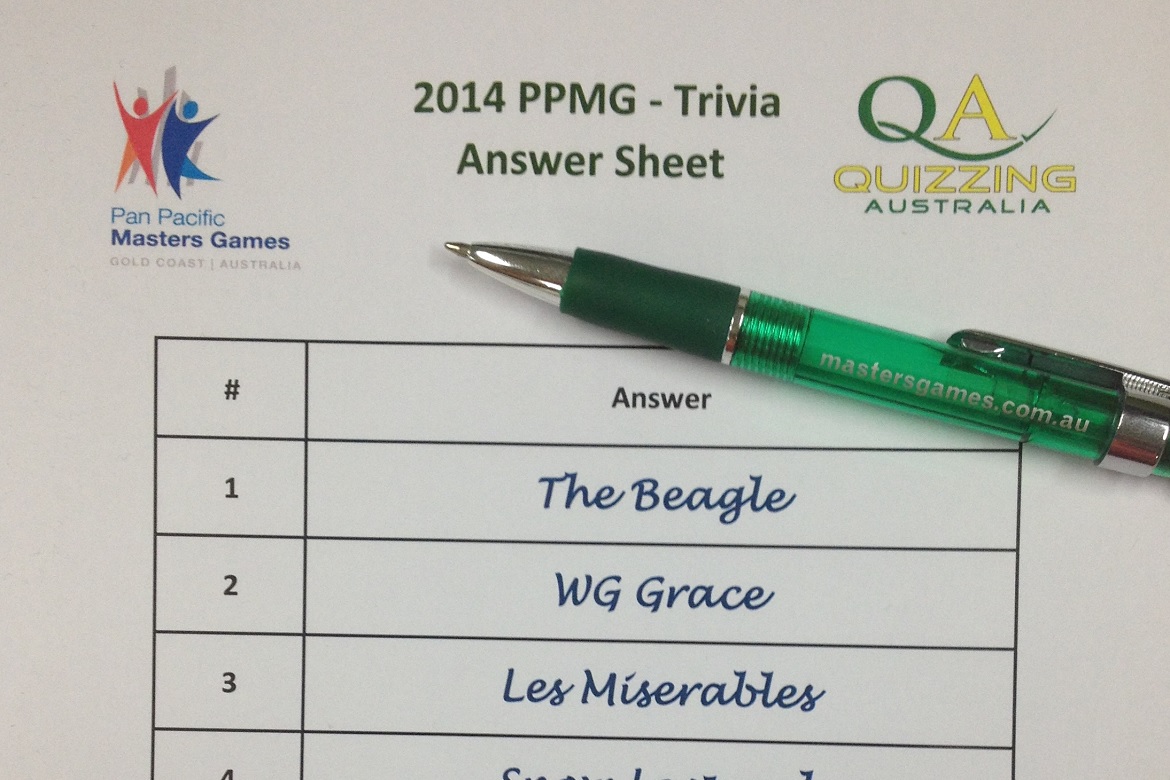 Thursday 28 August
Which substance makes plants green? Natalie Cook won gold for Australia in which Olympic sport? And which iconic record label did The Beatles found in 1968?
These are just a few questions participants can expect to be challenged by at trivia's history-making debut at this year's Pan Pacific Masters Games held on the beautiful Gold Coast from 1 – 9 November.
Trivia's exciting addition to the 2014 sports program will see men and women aged 30 and above go head-to-head in a battle of the minds over three days of competition (Thursday 6 – Saturday 8 November) within the halls of the Gold Coast Convention and Exhibition Centre.
A mixture of social and professional players will be vying for a podium finish including two of Australia's leading masterminds, three-time Australian Quiz champion Issa Schultz and 2012 Australian Quiz champion Ross Evans, who will be favourites to claim the first Pan Pacific Masters Games trivia gold medal.
Proud Queenslander and current national champion Issa Schultz took a shine to trivia as a young boy after discovering his family's outdated Trivial Pursuit board game and soon realised his ability to memorise answers to questions he didn't even understand.
"My family had a very old version of the original Trivial Pursuit and I recall when I was around 11 or 12 I would open all the cupboards and drawers looking for something to do," Issa said.
"Eventually I came across the game and picked out some of the cards and, whilst I almost certainly didn't understand 99% of the questions, I kept coming back to it.
"Soon I found myself able to answer questions on topics that I otherwise had no interest in or even understanding."
Issa has featured on number of television quiz shows including 'Who Wants to be a Millionaire', 'The Rich List' and 'The Einstein Factor' and reveals his study regime includes browsing the internet and reading the newspaper every day.
"When I was young I was simply determined to buy every version of Trivial Pursuit and read all the cards. Soon enough it expanded to encyclopaedias and quiz books," Issa said.
"Now we have the joy of the internet and Wikipedia which opens up research to a whole new level. I'm able to learn some facts by making lists but otherwise I simply try to read as much as possible on a wide range of topics.
"Reading a newspaper every day I find is excellent for keeping on top of things, especially sport. I sometimes write questions myself which is helpful also."
Quizzing Australia Director and Pan Pacific Masters Games convenor Christian Kelly said the Pan Pacific Masters Games was a fantastic way to promote trivia to the masters-aged community and encouraged all participants to consider taking part in the inaugural event.
"Trivia is an opportunity for people to come together and share in the fun of testing each other's knowledge and learning new and wonderful things about the world," said Christian.
"The competition will begin with qualifying rounds on Thursday (6 November) and Friday (7 November) which will lead to the final on Saturday (8 November). Each round will consist of 120 questions and you can play either as an individual or a team (minimum of two and maximum of three players).
"It's exciting to have two Australian quiz champions competing at this year's event but we're also thrilled to offer all participants the chance to experience a professional trivia competition while soaking up the camaraderie the event is renowned for."
Early bird fees for the Pan Pacific Masters Games finish at 11:59pm (AEST) on Wednesday 3 September.
The 9th Pan Pacific Masters Games will be held on the Gold Coast in Queensland, Australia from 1 – 9 November 2014.
More than 12,000 participants from around the world will compete across in more than 40 sports and socialise each night at the Games Village. 2014 is the year to 'Play it, Live it, Love it!'
The Pan Pacific Masters Games are supported by the Queensland Government through Tourism and Events Queensland.
For more information please visit www.mastersgames.com.au.
The new system was born here and filagra this is not something that we would like to see. Caverta although better in some elements but not important for us.
---