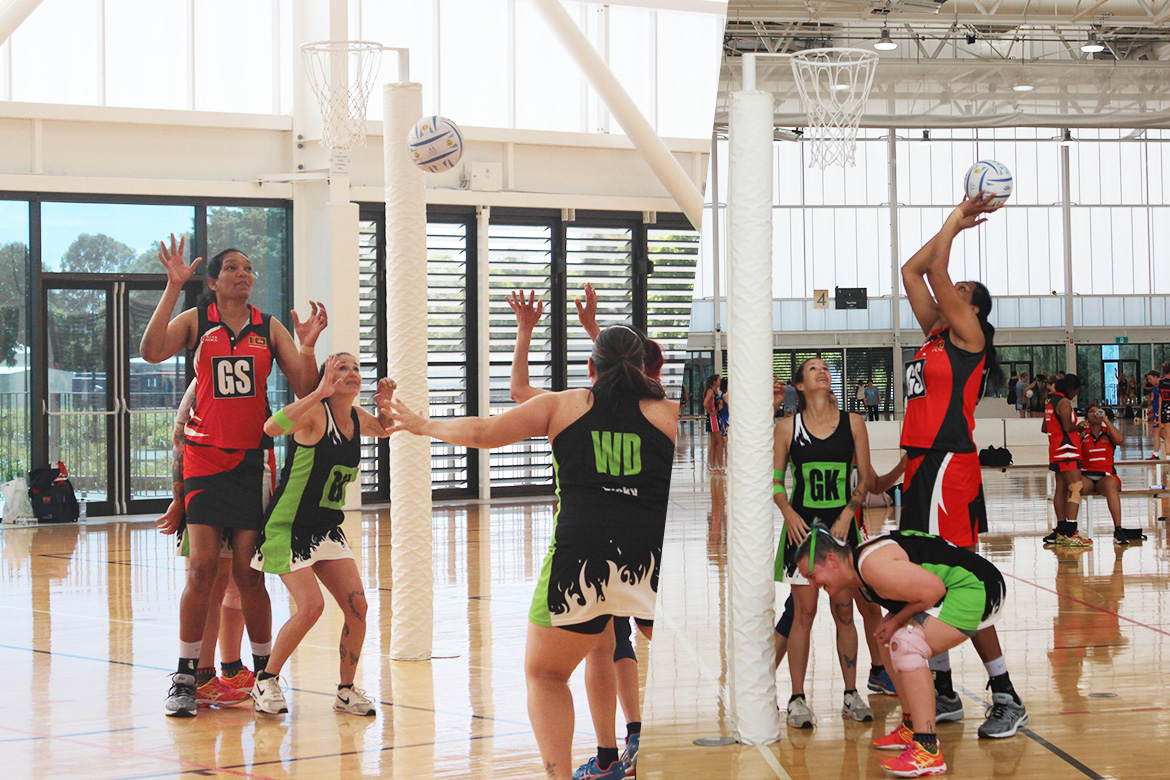 The quietly spoken 44-year-old Tharjini Sivalingam commands a presence as she walks through the doors of the Gold Coast Sport and Leisure Centre at Carrara.
Strangers doubletake.
The veteran sportswoman with the ever-ready smile is in the house with Sri Lanka's Track Masters netball team competing in the 2022 Pan Pacific Masters Games.
She's a former skipper of the Sri Lankan national netball team, the most capped international player to represent her country with over 100 appearances and is recognised as one of the most successful goal shooters of all time.
She was also the oldest player to play in the history of the Netball World Cup at the age of 40, ahead of her international retirement only two years ago.
And, oh yes, there's one more thing.
Tharjini stands at 206cm – or nearly 7 feet in the old language – reputedly making her the tallest person in the world ever to slip a netball bib over her head.
She's here with her compatriot Track Masters buddies, taking a break from her regular playing duties with the Melbourne Falcons netball team in the Victorian State League.
"This is fun, my first time in a Masters tournament," Tharjini said.
"We are all having such a great time and I'm catching up with so many friends from all over the place, some I haven't seen for ten years."
Make no mistake, it's been a long and winding road to the Gold Coast for the fifth of the six children born into a chilli and cow farming family in Evinai in Sri Lanka's Jaffna District.
Tharjini and her family lived through the horror of the bloody Sri Lankan Civil War which was fought from 1983 to 2009 with the loss of some 100,000 lives.
She was only a year old when hostilities broke out and these days credits the lessons learned amidst the chaos for the life she is leading today in Melbourne.
"We moved many times [during the war years], eight times in fact, and we lost the farm house to bomb blasts which destroyed everything, but we had already moved on.
"I concentrated on my education and my studies and that was very important," said the Bachelor of Arts graduate who holds a degree in Economics.
"Most of my teammates here are too young to know much about what happened [back in the war years], but every one of them has had a different journey to get here – getting the money together for flights and accommodation, taking out loans and those sorts of things.
"But it's what we do for our love of sport," she said.
And as they progress through the tournament with a fine measure of success, it's over to Track Masters captain Anjalee Vithanage to explain the complexities of the team's strategy.
"The pass [to Tharjini] is very important.
"We get it to her, and we get the goal," she smiled.