Sunday 4 November
By Risa Utama
Marie Ryan is advocating for the vision impaired community while bowling over the opposition on the tenpin lanes at the 2018 Pan Pacific Masters Games.
The 64-year-old South Australian lost her vision 20 years ago after she was involved in a car accident while on her way to pick apples with her two children, who were uninjured.
"I split my vertebrae, ruptured three discs in my spine and had bleeding in my brain, resulting in 62 days in hospital. It took a year of rehab before I could walk again," Marie said.
"After the accident I went through some dark times. I became estranged from my family who said, 'you would be better off dead' – they didn't know how to deal with it," she said.
Marie's life was turned around after meeting bowling partner Des Warner, 74, who lost his vision after suffering a stroke. The pair partnered to form Blind Bowling Team SA as a way to enjoy their sport as well as advocate for the vision impaired community.
"Before I met Des, I didn't have the confidence for anything like this. After his coaching, I discovered my love for bowling and won an Australian title," she said.
"People always tell you what you can't do, never what you can do."
---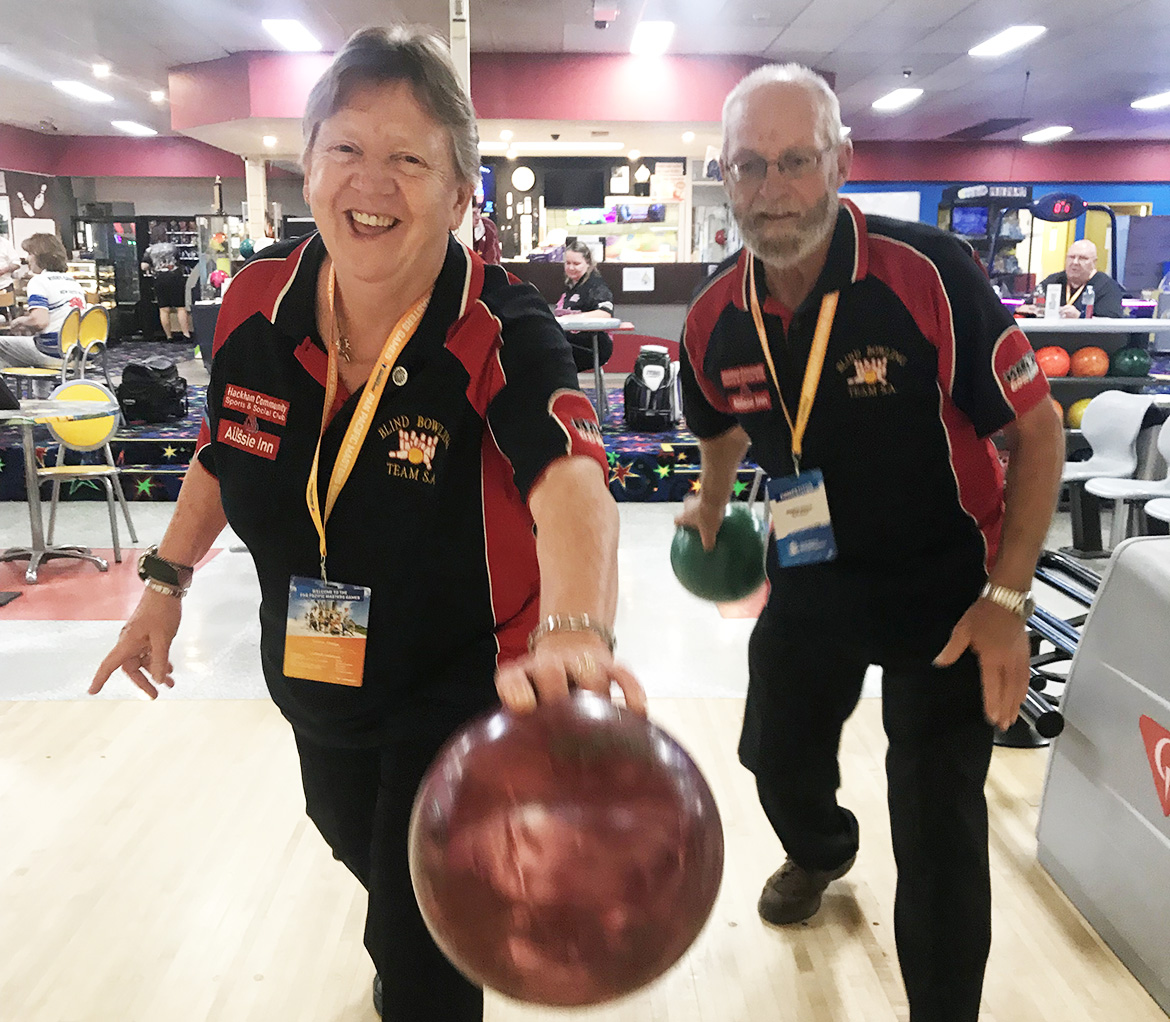 Blind Bowling Team SA are bowling for friends and fitness at the Pan Pacific Masters Games. Photo: Risa Utama
---
Since her accident, Marie has had a number of setbacks but has never let them stand in her way.
"I broke my hand when my guide dog Ebony and I were attacked, then sprained my ankle after a fall, but those incidents didn't stop me bowling – I won five gold medals that year," she said.
"Bowling has given me back my life. It has allowed me to regain my freedom and independence."
When Marie isn't bowling, she is campaigning for disability rights as part of Guide Dogs Australia.
"I spend my days public speaking to promote disability and social inclusion," she said.
"You don't know what you can do until you give it a go, you may surprise yourself!"
The pair has returned for their second successive Pan Pacific Masters Games to make new friends while having a holiday.
"If you have a disability, you are often ostracised very quickly due to a lack of education," Marie said.
"When we come to the Pan Pacs, we know we will be treated as equals by friends who will embrace us. It's where we feel most accepted."