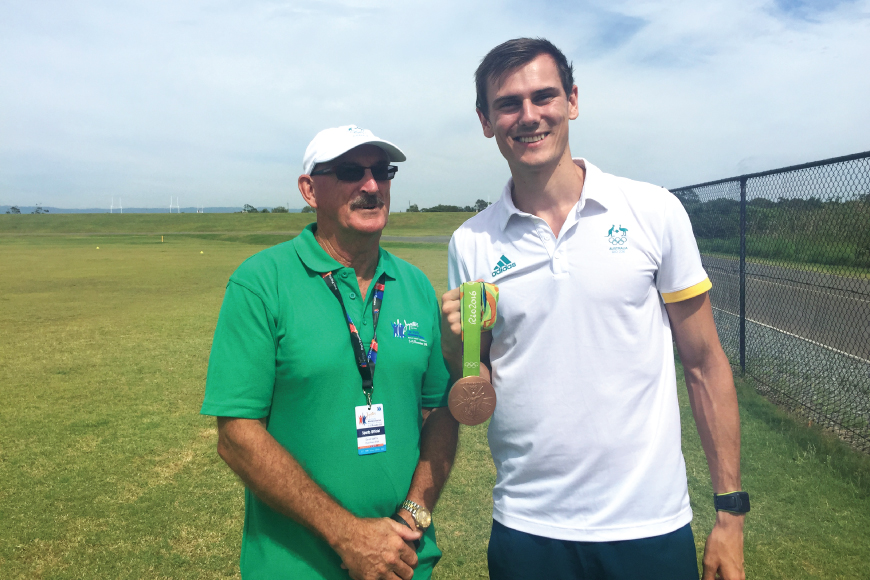 Rio 2016 Olympic Games 20km race walk bronze medalist Dane Bird-Smith shows off his bling alongside his dad David. Photo: Angela Bacic

---
Sunday 13 November 2016
By Angela Bacic
It was a 'royal' family affair at the Jupiters Pan Pacific Masters Games (JPPMG) this morning with two-time Olympian David Smith and his son, 2016 Rio Olympic bronze medallist, Dane Bird-Smith helping out at the 10.5km race walk.
Dane has celebrated one of his biggest years in race walking becoming the fastest Australian road walker in history while also picking up a bronze medal.
"There are no words to describe taking a medal in the Olympic Games," he said.
David, 61, has been part of the race walking community for the last 43 years, and is the current President of Road Walking Australia. Dane took up the sport at the age of 16 after an athletics carnival.
"A teacher said I would have to go into the 3km Road Race event to get more points from my school," Dane said.
"He's (David) always been a massive supporter of the race walking community and he always gets behind these events," Dane said.
David said: "I love the sport. My passion is race walking."
While David no longer competes, his son Dane believes that the sport is one of the best events in athletics.
"In race walking there's less body impact so you're not putting as much stress through your joints," Dane said.
"It's great to get into because of the longevity you have and the fitness you are going to acquire."
The sport is not just for the young with the oldest competitor today being one month shy of his 81st birthday. Some club race walkers can still do 5km despite being 90-plus.
David is hoping that events like the JPPMG will continue to build masters sport in Queensland.
"This is their time to shine," he said.
Dane hopes to be participating in the JPPMG – once he finishes his career as an Olympian, and his dad hopes to still be on the sideline cheering him on just like he did in Rio.
"I will probably be chugging along with the masters as well," Dane said.
While David joked: "I will be supporting him as long as I am above the ground."
The father and son are already preparing for the Gold Coast 2018 Commonwealth Games and Dane has his sights set on gold.
"It will be fantastic having it down here on the Gold Coast," Dane said.
"What I'm looking forward to most is having a massive support crew down there."
Before then David encourages masters athletes to get involved in the 2018 JPPMG.
"Come down and give it a go," he said.
"If you are in it and give it a crack you never know what you could do."
The 10th biennial Jupiters Pan Pacific Masters Games was held from 5 – 13 November 2016 on the Gold Coast in Queensland, Australia.
The event showcased competition in 43 sports and hosted 13,000 participants from Queensland, interstate and overseas.
---