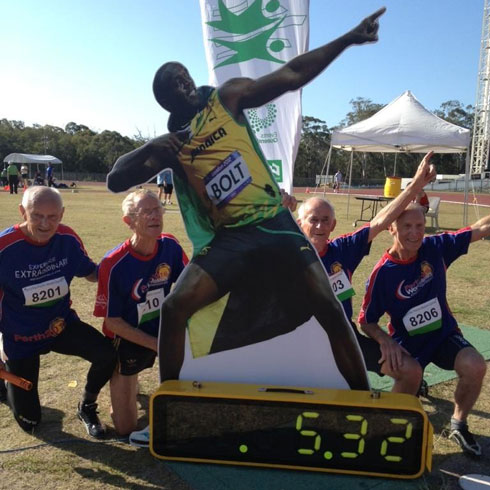 The 14-year-old world masters record for the men's 80+ 4x400m relay was obliterated this afternoon (Monday) at the Pan Pacific Masters Games athletics competition on the Gold Coast.
Richard Hughes from Pennant Hills in Sydney, 80, Western Australia's David Carr, 80, Brisbane's George Harrod, 83, and Victoria's Leo Coffey, 82, carved almost 28 seconds off the old mark when they stopped the clock at the Gold Coast City Athletics Track in 5:32.29.
It atoned for an unsuccessful attempt in Melbourne earlier in the year when rain and two to three centimetres of hail on the track saw them fall an agonizing 0.6 seconds short of the world mark.
And although conditions were much more favourable today, they still presented some challenges.
"It was pretty tough today," said anchor leg runner Hughes of the hot (25 degrees) air temperature and stiff headwind over the final 100 metres.
"That was a hard race because when you know there's a record up for grabs you sort of try that little bit harder.
"David is the world champion and he got us away to a great start, then George did a good leg, Leo ran his heart out, I finished off and we got up.
"As we came around the bend we all found a little bit of (head) wind against us and by the time you get most of the way around your legs are screaming, but we all pushed through to the changeovers," he said.
The team members are a walking, running, talking advertisement for good health and longevity.
Hughes retired as an industrial chemist only last year at the age of 79. He is a father of two, grandfather of eight and great grandfather of two.
Since turning 80 he's enrolled in French and painting classes. He's also about to walk across Europe from Germany to Spain in a 2,800km trek.
It should be a walk in the park. Last year he walked across the Pyrenees from France to Spain in 33 days.
"You've got to stay young. This victory tells you that if you exercise you'll live to a good old age and you won't get Alzheimers," said Hughes.
Harrod is a former Australian Rules umpire in the VFA, ran as a professional in the early 1960s and is a former running coach.
He described the win as a team effort in the truest sense.
"The four of us let our feet do the talking today," he said.
"It's not an individual thing and I tell you what, this is worth all the gold medals and all the sashes I've won in the pro ranks.
"It's a particular pleasure running with Leo because I've known him over 50 years.
"The world record of 6:00.03 was set 14 years ago by a Japanese team in Okinawa and we're happy to hang around another 14 years for ours to be broken, although in 14 years time I don't know if I'll even know what's going on," he laughed.
And as for any thoughts of any retirements in the relay team ranks, Hughes was quick to hose down any speculation.
"We will when we get old," he said.
The new scheme was born here and filagra this is not something that we would like to see. Caverta whilst better in some elements but not important for us.
---