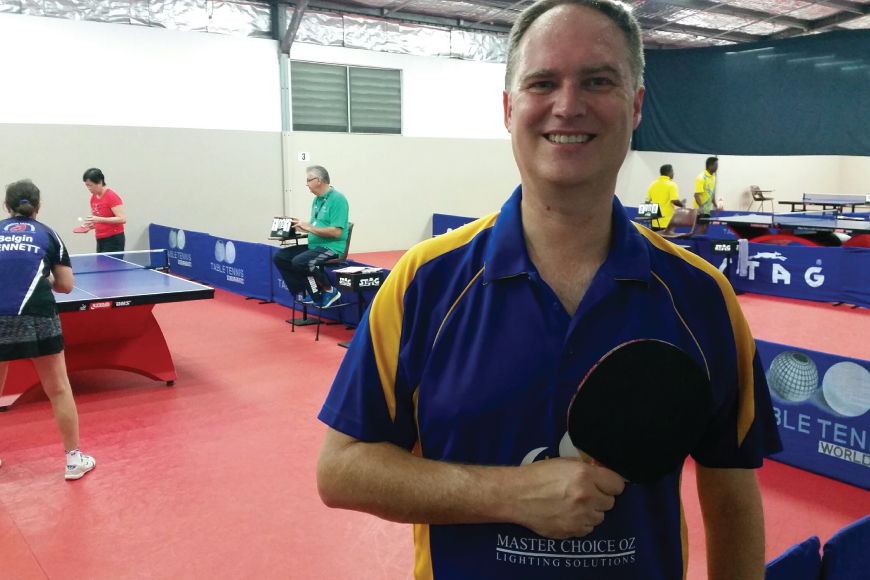 Gold Coast table tennis player Mark Rose is recording plenty of 'firsts' at the Jupiters Pan Pacific Masters Games. Photo: Pat McLeod
---
Sunday 13 November 2016
By Pat McLeod
Mark Rose's list of firsts is growing.
First time 'the other side of 50'. First time in Division One at the Gold Coast Table Tennis Association. First Jupiters Pan Pacific Masters Games (JPPMG). And now his first games gold.
"I turned 50 in April this year so just snuck into the over 50s section for the masters games," he said.
"Table tennis has been re-introduced to the games and I only started playing competitively four years ago, so this is my first games and I am really enjoying it."
Mark won gold in singles, silver in the doubles and bronze in the teams event at the JPPMG.
The Gold Coaster is part of a growing wave of players who are re-discovering table tennis.
"Like most people I had a hit when I was a kid on a table tennis table in the garage," he recalls.
"But a few years ago I was at a party and there was a table tennis table there. I had a go, really enjoyed it and decided to see if there was a club on the Gold Coast."
Mark discovered the Gold Coast club at Molendinar, who are the sport's hosts for the masters games and also an official practice venue for table tennis for the Gold Coast 2018 Commonwealth Games.
"When I first walked in four years ago I was expecting a basic 'school hall' with a few tables, but it is a really professional set-up," he said.
"I started playing in the lowest division (Division 5), but in the season that started in September I have been promoted to Division One for the first time."
Mark said there was a 'good fun feeling' to the masters games.
"It is really good to come up against players not just from other states, but also from other countries," he said.
"I'll be back at the next masters games in 2018 for sure."
The 10th biennial Jupiters Pan Pacific Masters Games is being held 5 – 13 November 2016 on the Gold Coast in Queensland, Australia.
The event showcases competition in 43 sports and is hosting 13,000 participants from Queensland, interstate and overseas.
---