PLAY IT, LIVE IT, LOVE IT!

Dates & Times
Sunday 6 November – Saturday 12 November 2022

Sunday 6 November – Friday 11 November 2022: 9:00am – 9:00pm
Saturday 12 November 2022: 9:00am – 4:00pm (finals)
All match times will be scheduled to nominations
Age Requirements
Age is determined as at 31 December 2022
Minimum age for competition is 30 years for women and 35 years for men
Divisions
Men:
35+ (Div 1), 35+ (Div 2), 40+ (Div 1), 40+ (Div 2), 45+ (Div 1), 45+ (Div 2), 50+ (Div 1), 50+ (Div 2), 55+ (Div 1), 55+ (Div 2), 60+, 65+
Women:
30+ (Div 1), 30+ (Div 2), 35+ (Div 1), 35+ (Div 2), 40+ (Div 1), 40+ (Div 2), 45+
All divisions will be capped at 8 teams per division
Fees
Sport Fee: $85 per player, per team
Games Fee:
Competitor:
Early bird $125 (until 11:59pm AEST 31 August 2022)
Standard $145 (from 1 September 2022)
Non-Playing Official: $90
Payment processing fee: 1.4% (incl GST)
Account2Account (select Australian banks – no fee)
Each competitor is required to pay the Games Fee once and then the Sport Fee for each sport in which they register.
Entries Close
Team entries close: Friday 7 October 2022 (11:59pm AEST)
Individual entries into existing teams close: Wednesday 9 November 2022 (11:59pm AEST)
Venue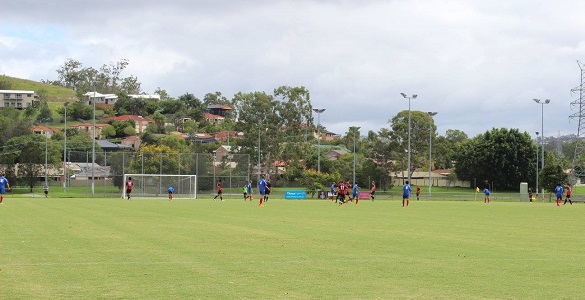 Nerang Soccer Club, Glennon Park
The Nerang Soccer Club is located at Glennon Park Nerang, the club's amenities include a fully licenced bar and kitchen, covered outdoor seating for up to 100 people, four change rooms and a kids playground. The competition will be held over five (5) fields of which four (4) are flood lit.
Location
Nerang Soccer Club
Glennon Park
Recreation Drive, Nerang QLD 4211
Additional Information
Each team is required to have a team manager who will register your team via the team manager portal prior to any player registrations.
Team managers must register a minimum of 5 players via the team manager portal to successfully confirm the teams place in the competition. Once this minimum is met, your team will appear on the team list within the chosen division and remaining players will be able to register individually.
For a list of the details that is required from each player for registration please download the player registration details document.
If you would like to play but do not have a team, please use our Sports Bulletin Board to advertise your availability or search for a team looking for players.
Alternatively if your team is short players please use the Sports Bulletin Board to advertise for players or look for available individuals.
Goalkeepers are granted an age exemption and can be five years younger than the minimum age requirement for each division (with the exception of 30+ women and 35+ men as the minimum age requirement still applies).
All divisions will be 11-a-side competitions played on full size fields.
Age groups may be amalgamated for round robin competition depending upon the number of team entries in each age group. However, medals will be awarded based on age category.
In addition to the team players, a maximum of three "Non-Playing Officials" (e.g. coach, manager) per team will be accepted.
First day draws will be available on the Games website one week prior to the start of the Games with full competition draws online to follow.
If you are interested in refereeing please fill out and submit the Referee Nomination Form. For enquiries about being a referee contact Phillippa Mengel at the Nerang Soccer Club.
Rules & Judiciary Procedures
Past Results
View the 2018 Football Grand Final Results
View the 2016 Football results
View the 2014 Football results
View the 2012 Football results
Contact
Football Enquiries
Phillippa Mengel
Nerang Soccer Club
Email: football@mastersgames.com.au
Phone: +61 4 2203 5542
Web: nerangsoccer.com
Event Enquiries
Pan Pacific Masters Games
Email: info@mastersgames.com.au
Phone: +61 7 5668 9888
Enter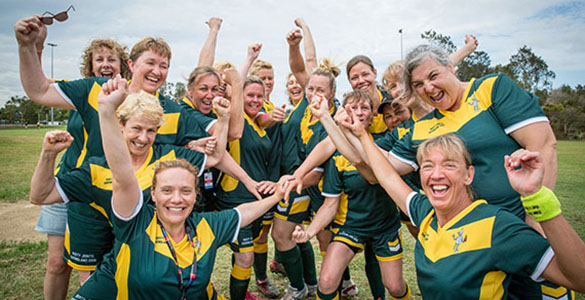 Secure your spot at Asia-Pacific's biggest and best annual masters games!
Enter the Pan Pacific Masters Games
Have you tried Walking Football? Add this new PPMG sport to your program in 2022! Click the image below to find out more information.