PLAY IT, LIVE IT, LOVE IT!

Dates & Times
Wednesday 9 – Saturday 12 November 2022: 8:30am – 5:30pm (warm up 7:30am)
Age Requirements
Age is determined as at 31 December 2022
Minimum age for competition is 18 years at day 1 of competition
Age Divisions
18-24, 25-29, 30-34, 35-39, 40-44, 45-49, 50-54, 55-59, 60-64, 65-69, 70-74, 75-79, 80-84, 85-89, 90-94, 95+
Events
Day 1 : Wednesday 9 November
800m Freestyle*
800m Breaststroke*
800m Backstroke*
800m Individual Medley*
800m Butterfly*
* 1 x 800m event per person only
Day 2: Thursday 10 November
50m Butterfly
400m Freestyle
100m Backstroke
200m Butterfly
400m Breaststroke
4 x 50m Mixed Medley Relay
4 x 50m Mixed Freestyle Relay
Day 3: Friday 11 November
100m Freestyle
50m Breaststroke
200m Backstroke
200m Individual Medley
50m Backstroke
100m Breaststroke
400m Butterfly
4 x 50m Women's Medley Relay
4 x 50m Men's Medley Relay
Day 4: Saturday 12 November
400m Individual Medley
50m Freestyle
100m Butterfly
400m Backstroke
200m Freestyle
200m Breaststroke
4 x 50m Men's Freestyle Relay
4 x 50m Women's Freestyle Relay
You may nominate for up to TEN (10) individual events.
Multi Class [MC] Swimmers may nominate under their classification if they wish.
Relay Teams are encouraged to nominate and pay online prior to competition (Via MSQ), Late relay nominations can be done on the day.
Fees
Sport Fee

$70 per person for up to 5 events (price includes PPMG silicone swim cap for first 400 entrants only)

$5 per event thereafter, up to 10 individual events maximum
$20 per relay team – to be paid directly to MSQ
Games Fee: 
Competitor:
Early bird $125 (until 11:59pm AEST 31 August 2022)
Standard $145 (from 1 September 2022)
Payment processing fee: 1.4% (incl GST)
Account2Account (select Australian banks – no fee)
Each competitor is required to pay the Games Fee once and then the Sport Fee for each sport in which they register.
Entries Close
Entries close Friday 14 October 2022 (11:59pm AEST)
Venue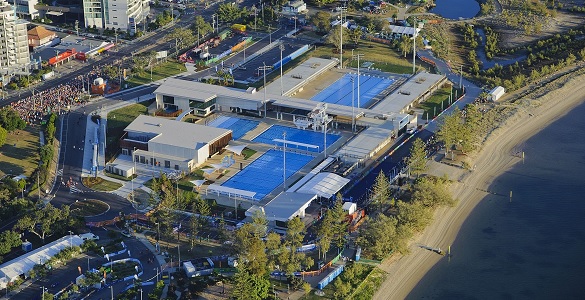 Gold Coast Aquatic Centre
Gold Coast Aquatic Centre (GCAC) is a state of the art facility that hosted the swimming and diving events during the Gold Coast 2018 Commonwealth Games. It offers fun, fitness and leisure for Gold Coasters seven days a week all year round.
Located at Southport's Broadwater Parklands (main entrance at intersection of Nind Street and Marine Parade, Southport), the centre boasts six pools (heated to a minimum of 27 degrees Celsius all year round) including a 50 metre, 10 lane competition pool, an impressive dry land dive training facility, a fully equipped fitness centre, multi-function meeting rooms and access to Café Catalina.
Location
Additional Information
To view the Meet Guide please click here.
Where applicable, a copy of the following scanned documents must be sent to swimming@mastersgames.com.au:

Australian competitors must provide masters ID number and club code when prompted upon completing online entry. (All non-Masters Swimming Australia members must provide a proof of age via a copy of driver's license or passport).
Overseas competitors must provide a proof of age (copy of driver's license or passport unless current Masters ID# is provided and approved).
Entries without appropriate identification will not be accepted.

All swimmers must submit proven and accurate entry times for all events.
You must produce your Games' accreditation prior to competition and photo ID upon entry to the pool upon request.
No Times (NT) will not be accepted.
Club Relay Teams are encouraged to nominate and pay online prior to competition (via MSQ), but can be nominated and paid for on the day of the event.
Relay swimmers must have entered at least one (1) individual event and shall not swim for more than one team in each relay event.
The organisers may assist with the formation of relay teams.
Combined ages for relay teams are: 72 – 119, 100-119, 120-159, 160-199, 200-239, 240- 279, 280-319, 320-359, 360+
All swimmers can break Pan Pacific Masters Games records – both individual and relays.
Masters Swimming Queensland members can break Queensland records.
Masters Swimming Australia members can break National records and their respective State records.
This event is not FINA World Record eligible.
Multi Class [MC] Swimmers may nominate under their classification if they wish.
Multi Class swimmers compete in their own right. There will not be separate heats (unless numbers allow for that) for MC swimmers, however, the results will be recognised as MC results with medal awards.
Non-MC competitors with a medical disability must forward a current Medical Disability Certificate endorsed by a registered medical practitioner. Forms available from the Masters Swimming Australia.
For more information MC Classifications or if you do not have a classification, but would like to be classified please refer to the Multi Class Swimming Information.
You may nominate for up to a

maximum of TEN individual events

. Five (5) events are included within the initial fee of $70.00 and 5 further can be entered at an additional rate of $5.00 per event.
The competition is presented by Masters Swimming Queensland and sanctioned by Masters Swimming Queensland.
Rules & Judiciary Procedures
Past Results
Contact
Swimming Enquiries
Christina Scolaro
Masters Swimming Queensland
Email: swimming@mastersgames.com.au
Mobile: +61 416 955 011 (office hours)
Web: mastersswimmingqld.org.au
Facebook: Pan Pacific Masters Games – Swimming
Event Enquiries
Pan Pacific Masters Games
Email: info@mastersgames.com.au
Phone: +61 7 5668 9888
Enter
Secure your spot at Asia-Pacific's biggest and best annual masters games!