PLAY IT, LIVE IT, LOVE IT!

Dates & Times
Monday 7 – Tuesday 8 November 2022: 8:00am – 4:00pm* daily


Weigh in will open 45 minutes prior to competition
*Time subject to change
Age Requirements
Age is determined as at Monday 7 November 2022

Minimum age for competition is 30 years
Age Divisions
30-34, 35-39, 40-44, 45-49, 50-54, 55-59, 60-64, 65-69, 70-74, 75-79, 80-84, 85-89, 90+
Events
Monday 7 November:

Tuesday 8 November:
Fees
Sport Fee: $55 per person (includes all events)
Games Fee: 
Competitor:
Early bird $125 (until 11:59pm AEST 31 August 2022)
Standard $145 (from 1 September 2022)
Payment processing fee: 1.4% (incl GST)
Account2Account (select Australian banks – no fee)
Each competitor is required to pay the Games Fee once and then the Sport Fee for each sport in which they register.
Entries Close
Venue
TBA
Additional Information
Concept 2 Indoor Rowers will be used. Competitors may use the resistance level of their choice, but this cannot be changed during the race.
Rowers will not be able to touch, connect or plug ANY device into the rowing machine monitors.
Lightweight event weight limits: Male 75kgs or less, Female 61.5kgs or less.
Lightweight competitors are required to weigh in at least half an hour before their first scheduled race. You will be required to weigh in only once on each day of competition. Competitors failing the weight limit will be transferred into open category.
Adaptive Rowers are welcome and encouraged, for classifications please visit the following link: https://www.concept2.com/indoor-rowers/adaptive-rowing/adaptive-classifications
Multiple categories may be in the same race however medals will be awarded based on each separate category.
Separate race categories will be differentiated on the screen by different colours of 'boats'.
You will see the competitors in your race on your rowing machine monitor. Athletes are advised NOT to look at the spectators screen.
Medals will be presented after each event.
Race replays and split data will be available online after the indoor rowing event for you to review your performance and all results will be sent to Concept2 by Monday 14 November, 2022.
Participants are permitted to use anti-slip pads or seat belts.
An end of competition a free 2000m team event, four rowers per team, will be held at the completion of the 1 minute event. Team entry nominations will be accepted between 9:00am and 11:30am on

Tuesday 8 November 2022.

Teams will be created at random by the sport convenor. No special requests will be granted.
If you are aiming to break an Australian or World Indoor Rowing record please contact indoorrowing@mastersgames.com.au prior to the event.
World Rankings can be achieved in all events. View the Online World Rankings.
Australian records can be set in the 100m, 500m, 1000m and 2000m. View the Australian Indoor Rowing records.
World records can be set in the 1minute, 100m, 500m, 1000m and 2000m. View the World Indoor Rowing records.
Entrants will be asked to stay on their machine until all competitors have finished the race.
Warm-up machines will be available. Please give priority to those in the next race.
Past Results
View the 2018 Indoor Rowing Results
View the 2016 Indoor Rowing results
View the 2014 Indoor Rowing results
View the 2012 Indoor Rowing results
Contact
Indoor Rowing Enquiries
Email: indoorrowing@mastersgames.com.au
Phone: +61 7 5668 9888
Event Enquiries
Pan Pacific Masters Games
Email: info@mastersgames.com.au
Phone: +61 7 5668 9888
Enter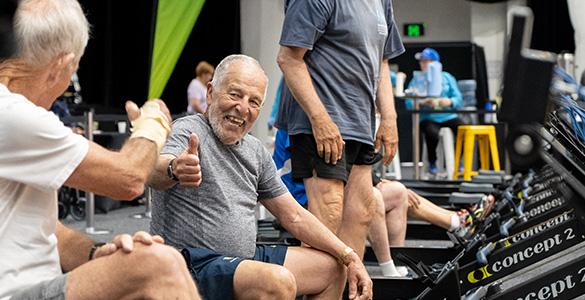 Secure your spot at Asia-Pacific's biggest and best annual masters games!