PLAY IT, LIVE IT, LOVE IT!

Dates & Times
Saturday 5 and Sunday 6 November 2022: 8:00am – 4:00pm daily
Age Requirements
Age is determined as at Saturday 5 November 2022
Minimum age for competition is 30 years
Divisions
30-39, 40-49, 50-59, 60-69, 70+
Average age of team members determines the age group
Event Divisions
Enduro
Up to 320cc – team of 2, 3 or 4
Over 325cc – team of 2, 3 or 4
Vinduro
Classic (Pre '78) – team of 2 or 3
Classic (Evolution) – team of 2 or 3
Post Classic (Pre '85) – team of 2 or 3
Post Classic (Pre '90) – team of 2 or 3
Post Classic (Pre '95) – team of 2 or 3
Post Classic (Period 20) – team of 2 or 3
Post Classic (Revolution) – team of 2 or 3
Fees
Sport Fee
Rider Levy: $35
Enduro & Vinduro: $35 per person per event (maximum of 3 classes)
2 Day Event License $75 Online Pre-Event/ $80 On the day: Non Motorcycling Australia Competition License Holders
Games Fee: 
Competitor:
Early bird $125 (until 11:59pm AEST 31 August 2022)
Standard $145 (from 1 September 2022)
Payment processing fee: 1.4% (incl GST)
Account2Account (select Australian banks – no fee)
Each competitor is required to pay the Games Fee once and then the Sport Fee for each sport in which they register.
Entries Close
Friday 21 October 2022 (11:59pm AEST)
Venue & Location
To be advised closer to the date of competition.
Additional Information
If a team includes machines from different classes, the later class applies.
Anyone that does not hold a current Motorcycling Australia Senior Competition License will be required to obtain a Competition 2 Day Event License. Available for purchase online prior to the event for $75 and on the day for $80.
Age division categories for the Enduro and Vinduro is determined by the average age of the riders in the team (i.e. the age of each rider is added together and then divided by the number of riders).
In the Vinduro event, Period 20 bikes are manufactured from 2002 onwards
If you're an individual wanting to join a team, please indicate NO to the team question and the Sport Convenor will place you in a team.
Each team member must complete a minimum of one lap each day.
Lights are not required for the Enduro bikes.
A free BBQ will be provided at the Enduro & Vinduro presentation ceremony on Sunday afternoon.
Rules & Judiciary Procedures
Contact
Enduro & Vinduro Enquiries
Alan Bressan – Enduro +61 4 1187 1637
Colin Metcher – Vinduro +61 4 5912 2090
Email: endurovinduro@mastersgames.com.au

Event Enquiries
Pan Pacific Masters Games
Email: info@mastergames.com.au
Phone: + 61 7 5668 9888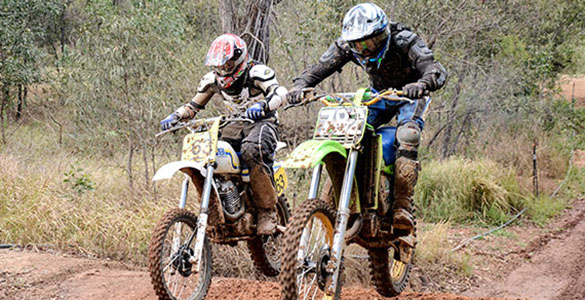 Secure your spot at Asia-Pacific's biggest and best annual masters games!