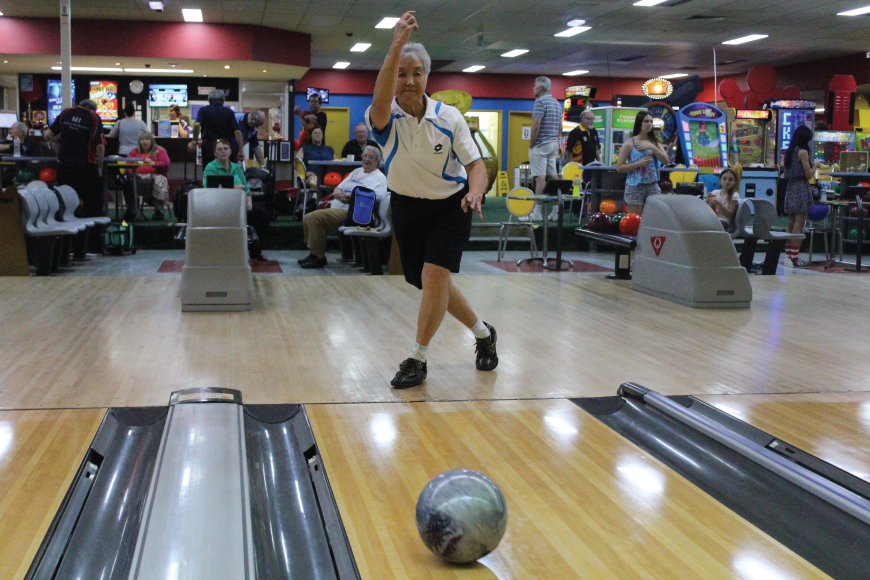 Judith Buehow in action on the last day of the Jupiters Pan Pacific Masters Games. Photo: Brayden William
---
Sunday 13 November 2016
By Brayden Williams
Jupiters Pan Pacific Masters Games (JPPMG) tenpin bowling regular, Rockhampton's Judith Buehow, 79, today added another gold medal to her already bulging trophy cabinet.
Judith has been competing in tenpin bowling since 1975 and has been to the majority of JPPMG competitions. She is the only deaf tenpin bowler at the JPPMG, but that disability has not limited her success.
Over the past 10 years she has won 'a lot of medals' at the JPPMG and added a gold medal to her collection, winning the 75+ competition today at Go Bowling, Ashmore . Judith scored a total of 451 points.
Apart from JPPMG, Judith competed interstate and internationally as part of the national deaf championship team. She has competed in New Zealand and Argentina and in her last competition in Argentina she finished third in the world.

"I competed for six years in the national deaf championships and ended up coming third in Argentina," Judith said.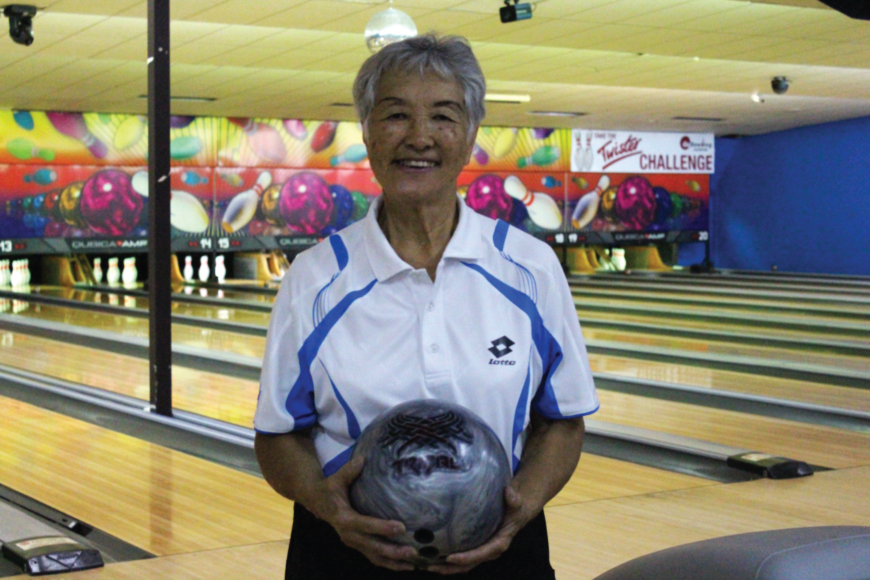 Judith is all smiles after a successful and fun bowling competition at Go Bowling Ashmore. Photo: Brayden William
---
Judith's participation in the sport is inspirational, gaining respect from all of her competitors. Sports official Lisa Kilvert said the tenpin bowling association encouraged people from all different backgrounds and disabilities to join the sport.
"Judith is a prime example of what we want to achieve, we want people to know that anyone is welcome to play the sport regardless of their disabilities, especially at the masters games," Lisa said.
Judith agreed that the JPPMG is a great place to come and bowl.
"I love coming to the Jupiters Pan Pacific Masters Games. It's a great place to continue my hobby."
– Judith Buehow
"I will be back next time."
The 10th biennial Jupiters Pan Pacific Masters Games is being held 5 – 13 November 2016 on the Gold Coast in Queensland, Australia.
The event showcases competition in 43 sports and is hosting 13,000 participants from Queensland, interstate and overseas.
---